UV-Vis Spectrophotometer Product
752S /752Pro UV-Vis Spectrophotometer is one convenient spectrophotometric general instrument developed and made by HuiQi Optics.The instrument could set factor and directly read the transmittance, absorbance and concentration from 190nm to 1100nm.It also could set wavelength manually. 2nm bandwidth could meet the needs of most quantitative measurement requirements. They could make the qualitative and quantitative test in material research, pharmaceutical analysis, Biochemical and clinical examination, analysis of water quality control, food inspection and the other fields.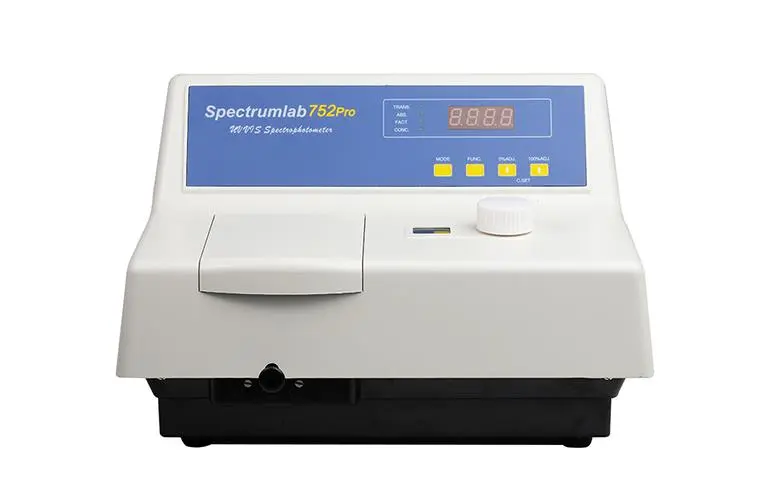 752S /752Pro UV-Vis Spectrophotometer Main Features
Low Stray Light: Precision optical design ensure the stray light lower than 0.05% to meet clients' need when they want to test high absorbance sample.
High Wavelength Accuracy: Built-in spectral characteristics work for the auto wavelength detection and calibration to ensure the accuracy and long-term stability.
Wide Wavelength Range: The wavelength range covers from 190nm to 1100nm. The widest wavelength range of the similar products is offered to meet the needs of most spectrophotometric test.
Convenient light source replacement: Deuterium lamp adopt universal flange fixing, deuterium lamp replacement could be completed by operation of two screws, no need to adjust light path make maintenance easier and reliable.
Light Weight and Small Size.
Specification

752Pro

UV-Vis Spectrophotometer

752SUV-Vis Spectrophotometer

Light Source

Normal lamp

Hamamatsu lamp

Optical System

1200 line Diffraction Grating C-T monochromator

Wavelength Range

190-1100nm

Bandwidth

2nm

Stray Light

≤0.2%T

≤0.1%T

Wavelength Accuracy

±2nm

Wavelength Repeatability

≤0.5nm

Photometric Accuracy

±0.5%T

±0.3%T

Photometric Repeatability

±0.2%T

Salability

0%≤0.2%T

100%≤0.5%T

Transmittance Range

0.0-199.9%T

Absorbance Range

-0.3-2.999A

Instrument Measurement

(

mm

)

370×320×240

Weight

G.W.: 10kg

N.W.: 7.5kg

Display

4 digits LED

Port

RS232 Serial Port
Whether you need help with our Optical spectrometer, want to know more or simply need directions
,
just contact Ebetter Optics here
.
Other types of spectrophotometer










VIS SPECTROPHOTOMETER

UV-VIS SPECTROPHOTOMETER

FLUORESCENCE SPECTROPHOTOMETER